Visit Our Walla Walla Playhouse
With its Many Handsome Appurtenances
Open by Appointment
Thursday through SUNday
Our handsome lair is situated on scenic Palouse Street, just off Main Street in downtown Walla Walla. Book your reservation now, because space is extremely limited. We kindly require parties of 6 or fewer.
The World's Most Splendid Tasting Room
Of all the tasting rooms located
in pink buildings on Palouse Street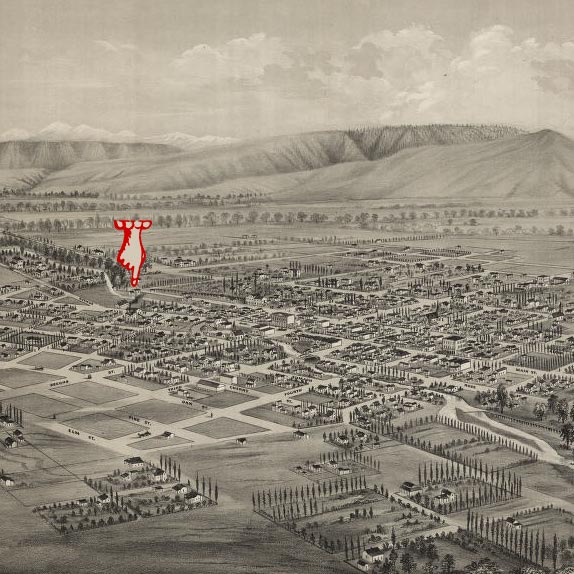 Library of Congress, Geography and Map Division.
Our 1920s-era storefront is—and always has been—pink. But on the inside, it's an old-time Northwest mercantile in handsome dark-wood tones. Think Mission furniture and Italian wallpaper, antiques and cork floors, Carrera marble countertops and leather seats, Parisian café curtains and the Orpheum's velvet drapes. Join us for a leisurely flight of fine wines. But please note: The atmosphere is more didactical than bacchanal, better suited to Agent Dale Cooper than Sir John Falstaff.
Most Hospitable and Gracious
But for the Exceptionally Large Bear
Don't be deterred—Bear won't bite. In fact, he's quite the wassailer. And he's in need of drinking companions and habitués.
So join our Mailing List, won't you? We'll let you know about winemaker dinners all over the land, as well as upcoming events at the Tasting Room, including release parties and Bear appearances. Hear hear! Here here?
As Demonstrated in This
Aspirational Photo Montage
Designed to make you feel resentful
about the fact that you are not here
The challenges of running a small business these days are real. It is just so difficult to find and retain a full-time jester.